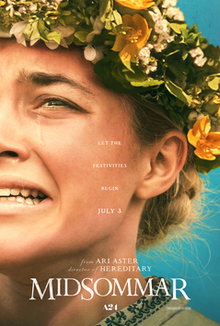 Ari Aster has done it again with another fantastic cult movie (like, a literal cult). Like Hereditary, this film is sopping wet with symbolism, foreshadowing, and sickening imagery that doesn't always rely on gore… (but okay there's still plenty of gore). Along with these two, film distributor A24 has released other horror gems such as The Lighthouse, The Witch, and Ex Machina, to name a few– and that's not to mention the several award-winning movies in other genres.
Dani and Christian are two twenty-somethings in a faltering relationship, which becomes even more fragile when Dani loses her family in a tragic murder-suicide. After the deaths of her sister and parents, Dani finds out that Christian had soon planned to leave with his fellow grad student friends to experience the ritualistic festival of a small commune in rural north Sweden. Christian, becoming ever more distant, invites Dani to come along assuming she will say no; much to his disappointment, she accepts.
When they arrive at the commune, an idyllic landscape that is far north enough that the sun is out as late as midnight, they are welcomed by the Hårga with open arms. Though the friends attempt to assimilate into the culture, they find it increasingly difficult to cope with the Hårga's disturbing practices, and things soon become quite sinister.
Though this may be the sunniest horror movie ever, that is not at all indicative of the tone. I don't know who has done Ari Aster wrong in his past, but this is one disturbing breakup flick. Again I must compare it to Hereditary, in how it begins with a tragedy and is then mired in hopelessness throughout. Florence Pugh, who leads as Dani, captivatingly plays the role of an anxious and grieving young adult. Her visceral sobbing is one of the most unsettling parts of the movie. On the other hand, Will Poulter does provide some humor as Mark—mostly because Mark kind of sucks—and it is especially funny when he is having a less-than-ideal shroom trip and says: "I'm just gonna lay down, okay? Everybody else lay down. Guys do it, it feels so nice… Josh, can you lie down please?"
It is fair to say now that whenever Ari Aster comes out with a film, you're going to want to watch it twice… if you can even handle watching it once. There is so much to discover in Midsommar. Many choices deliberately foreshadow future events, and many small details seem to be there solely to freak you out (but they're probably also deliberate and just way over my head). The 2.5 hour run time doesn't ever feel like a drag. A long exposition establishes the characters and plot points in subtle yet effective ways, and in so doing, rewards the scrupulous viewers.
Though this is one of the more disturbing films I have seen in recent memory, there's something about this folk horror flick that even non-horror fans are peeking through their fingers for. It's one of those scary movies that can garner an approving nod from any audience, and makes them think, "okay, horror can be art too." If you can live with a sleepless night or two, I highly recommend Midsommar.
I myself will be taking a break from it for, hmm…several years.
Here's what you'll miss if you cover your eyes:
Mirrors, mirrors, everywhere (and not always what you expect to see)
Sledge-o-Matic
Jazz hands
Synchronized wailing
Not exactly a Bloody Mary
And so much more…